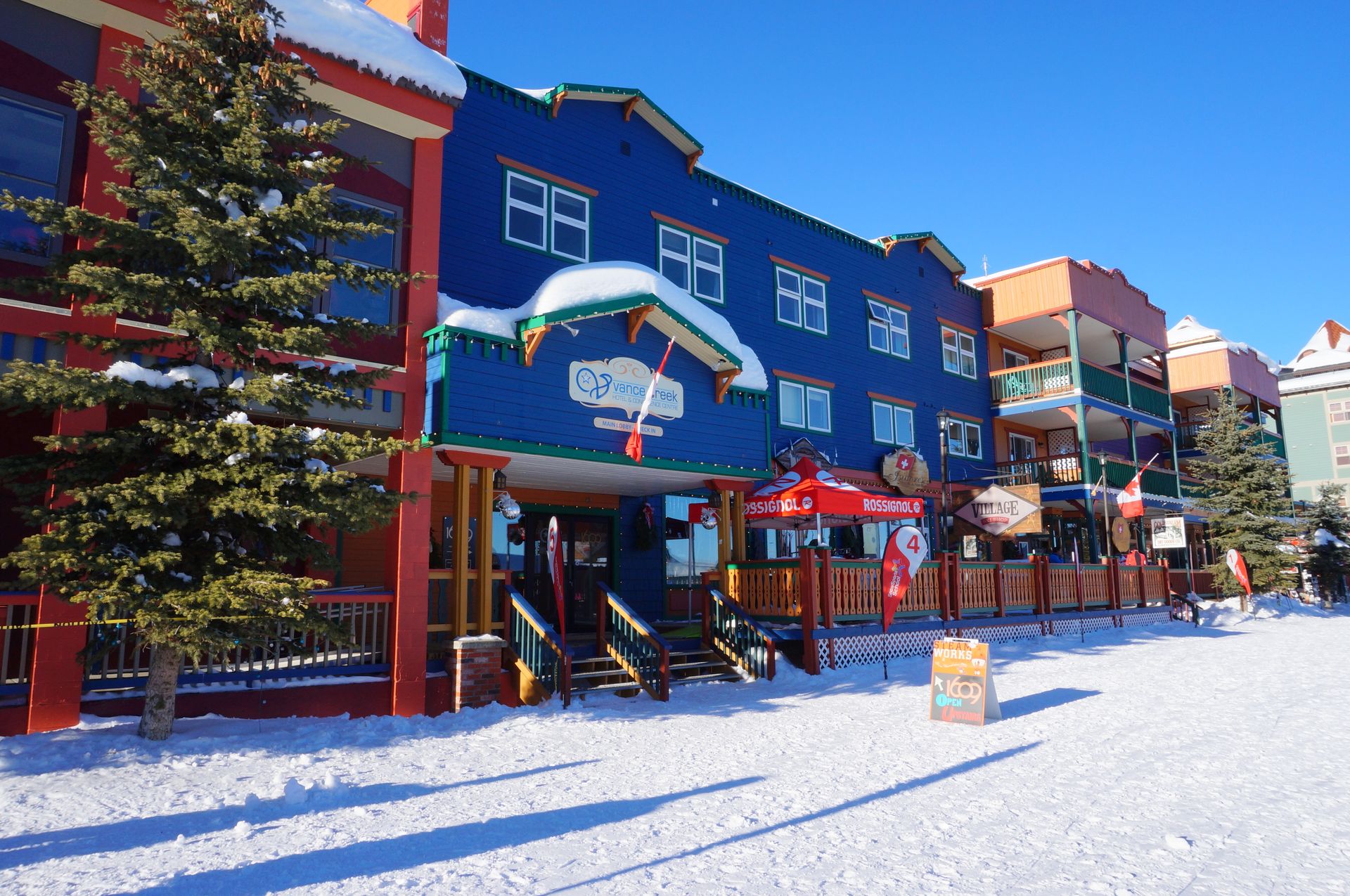 In the heart of the Village at Silver Star Mountain Resort, the Vance Creek Hotel Suites are well suited to a care-free ski area experience with easy access to all ski area amenities. Just step out your door for dining and entertainment! This 3-story building with 19 leasehold units located on the second and third floors. The ground floor commercial areas offer cafes, Red Antler Pub, 1609 Restaurant, and a variety of retail shops.
Ski-in, ski-out
Ski Access: Summit Express Gondola, Main Street Skiway
Walk to: Village Centre
Building
Type: Hotel-Condominium/Leasehold
Year Built: 1984
Refurbished: 2014
Buildings: 1
Stories: 3
Units: 19
Construction Features: Cedar exterior. Torch-on roof. Gypcrete flooring. Concrete block demising walls for soundproofing. Electric baseboard heat. Fire sprinkler system. Wheelchair accessibility.
Utilities & Services: Hydro, Natural Gas, Telecommunications, Shaw Cable, Silver Hawk Sewer, Municipal Water
Parking: Off-site public parking in the adjacent lot
Features: Decks. Shared hot tub. Shared laundry. Views over the Village, ski slopes, and the Monashee Mountains.
Ski storage: Lockers
Rentals: No restriction on owner use. Owners received 60% of revenue
Leasehold interests – a 99-year term with the option to renew. Lease Agreement, Management Agreement, and Cost Sharing Agreement in place
Condo Information
Rentals: No restriction on owner use. Owners received 60% revenue

1 BR/ 1 BATH (525 sq.ft.)
2 BR / 2 BATH with lockoff (750 sq.ft.)

Condo Features: Fully furnished. Pine Kitchens. Private decks. 1 bedroom suites with 2 queen beds, 1 queen hide-a-bed, and a pine kitchen. 2 Bedroom suites can be enjoyed as a 2 bedroom suite or lock-off to form a 1 bedroom suite and 1 hotel room. Furnished with 1 king bed, 2 queen beds, and a double pull-out in the living room, 2 ensuites and a pine kitchen and living area opens to the deck overlooking the Village, and with views of the Monashee Mountains.
Strata Information
Monthly Fees: $750.74 for 1 bedroom, $1,073.41 for a 2 bedroom (2018-2019)
Monthly Fees: All-inclusive –  Management, Resort Fees, Maintenance, Security, Snow Removal, Landscaping, Hot Tub, Insurance, Hydro, Gas, Sewer, Water, and Property Tax.
Management Company: Vance Creek Hotel Suites
Pets – Designated units are pet friendly (Unit 312)
Rental Policies
Rental Policy: Rental Management Agreement with Silver Star Club Resort. Units will be used only as Hotel Accommodation or for personal use by the owner of the unit. No restriction on owner use. Owners received 60% of revenue.
Rental Management Company: Vance Creek Hotel Suites

                                                     

SSRA – SILVERSTAR RESORT ASSOCIATION 
Currently Available Listings in Vance Creek