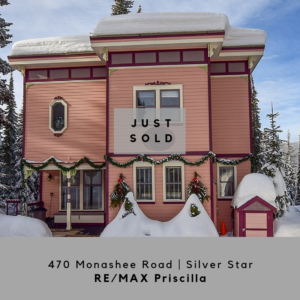 February 2019 Real Estate Sales
March is here which means spring break is coming and so is the spring skiing and hopefully more real estate sales during the spring break rush!
In real estate sales, February was a strong month for sales of vacation properties at Silver Star. After a slow January, there were 13 real estate sales in the last 30 days compared to just 3 the month prior! The even better news is that so far in 2019, Re/Max Priscilla accounts for 50% of all sales at Silver Star with 8 of the 16 total sales this calendar year!
What's helping drive the market?  Well, interest rates are coming down. HSBC(2.99%), TD(3.64%), and RBC(3.54%) have all recently lowered their rates on 5-year fixed rates to get it moving in the right direction. We strongly believe this will improve the Spring sales market with Spring Break vacationers flocking to our great resort. Now is the time to get your property on the market before Spring Break is over!
Oh, and don't forget to 'Spring Forward' this coming weekend as clocks move ahead one hour on Saturday at midnight!
North Okanagan Stats for February 2019 – OMREB
Shuswap Stats for October 2018 – OMREB
For full details on the Okanagan Mainline Real Estate Board click here.